20/01/19
I have published my debut novel as part of the dub spectrum project.  Paperback and Kindle editions are available to buy here.  Click here to read Part One for free.
09/01/19
Happy New Year!  The school has been quiet since September so I've been earning a crust via a mixture of pouring pints, washing pots 'n' pans and work in the care sector.  Creatively, the past few months have mostly focused on drawing and writing new poems and I have also begun jotting down ideas for my second novel.  The above sketch is from a chilly, though very bright and sunny, Exmouth earlier today.
06/07/18
About a year ago, I exhibited prints at Galerie Métanoïa, Paris and this morning I received an email from the director informing me that he had included my work in a promotional video for Festival d'Art sacré de Senlis, 2019.
09/06/18
Spent two amazing months travelling Morocco, Spain and Portugal.  Sketches and photos from my travels can be viewed here.
30/03/18
I have finished my first novel, Part One can be read for free here.
01/03/17
My fourth short film is taken from a poem I wrote a few years ago, which opens the fifth chapter of my novel and is inspired by some of the main character's journey.  I initially made a spoken word piece out of it, but liked the idea of creating something more visual.  I decided to stick with the original recording, as I really liked the sound effects and so filmed a few takes in the studio and subway nearby to accompany the soundtrack.
10/02/17
Been a busy bee in the studio developing new paintings from research and experiments inspired largely by my Cycle Diaries.  Latest pieces can be viewed here.
03/02/17
My third short film draws from an artist statement I wrote that makes reference to Kandinsky's ideas of the spiritual in art and how this has influenced developments in my own work.  The film's title is taken from a phrase coined by Kandinsky, which basically translates as, "Inner sound."
31/01/17
A little Dada-esque in tone, my second short film is taken from a poem I wrote about 8 years ago while working the night shift in a care home.  I had multiple ideas for shots, but I liked the silliness of a laptop around the face as suggesting certain technologies pull the wool over our eyes and in the end I felt a single take worked best.  The soundtrack is from Robocop for the ZX Spectrum, which I found online and thought it sounded suitably "hipstery" and ridiculous.
25/01/17
First things first: Happy New Year!  Speaking of first, below is my first foray into DIY film-making.  I've been writing quite a bit lately, from fiction and poetry to various musings on various things.  This piece began as a reflection on the state of contemporary art in relation to the wider world, which developed into the idea of creating a short film following the thoughts of an unknown artist, as he wanders solitary along the coast.
 22/12/16
Had an amazing couple of days at the Paris opening.  The image above is the view from Montmartre near to where I was staying.  Lots of interest and positive feedback towards my work and I even managed to scoop a 'Great Art' award, which was rather unexpected!
19/12/16
Exhibition opens in Paris this week, click here for details.
25/11/16
All moved into my new project space based at Eva Studios.  Latest pics can be viewed here.
04/11/16
Been a while since I've posted on here so there's a bit to catch up on!  I had a wonderful couple of weeks travelling north Spain, heading first to San Sebastian via train.  San Sebastian really is a beautiful city and I took in Bilbao en-route to Picos de Europa via a nice town called Llanes.  The bus ride from Llanes to Arenas de Cabrales has to be one of the most spectacular journeys I have taken and the national park itself is breath-taking.  Above, you can see my small tent pitched by the river in a campsite just outside of the town.  The weather was gorgeous and my initial intention was to get some sketches done for landscapes.  I got a few scribbles down and took many photos, but the main bit of inspiration came in the form of a novel!  It was actually an idea I had a few years ago while working in mental health, initially intended to be a film that turned into a book as I began writing it.  I then put it on the back burner and sort of forgot about it.  Travelling alone gives you the space and time to really thrash out new ideas and after 2 weeks I had a rough outline of the story and many of its principle characters.  I therefore decided to head home instead of continuing my journey, as I really wanted to research and develop the book.  The trip was also something of a personal milestone that saw me finally overcome severe anxiety, which had impacted considerably my ability to travel (and general self-esteem) for a number of years.  I am looking forward to another trip next year, possibly in spring (depending on work/finances etc.).  The past month or so has been busy dividing my time between teaching and writing my book.  I have almost finished a rough draft of the first part and I think it will be written in 10-12 parts.  Writing is quite a challenge, but I'm enjoying it as a new project.  I have also just taken on a studio space with Eva Studios in Exeter and I'm looking forward to developing new paintings when I move in later this month.  My recent show in London was well received and next up is Paris where I will be exhibiting prints at Galerie Métanoïa from Dec 19, 2016 – 9 Jan, 2017.
26/08/16
04/08/16
The Brick Lane Gallery has created a Facebook page for the upcoming show, details can be viewed here.
09/07/16
'The sky has no surface and is intangible; the sky cannot be turned into a thing or given quantity.  And landscape painting begins with the problem of painting sky and distance'.  – John Berger.
Took a wonderfully long walk through Dartmoor woodland today.  A great day for some initial experiments with reductions, which I aim to develop larger-scale as paintings.
11/06/16
Upcoming Group Shows: Rural and the Urban, Brick Lane Gallery, 93 – 95 Sclater Street, London (18 – 28 Aug, 2016) and Un Seul Grain de Riz, Gallery Métanoïa, Paris (19 Dec, 2016 – 9 Jan, 2017).
06/05/16
I recently spent a few days in Tintagel to work on research, take in the sights and generally chill out by the coast.  I got a couple of sketches done and took oodles of photos of the wonderful landscape!
13/04/16
Click here to view some powerful and thought provoking images by photographer, Nick Brandt.  Leaves me wondering if we really have any control at all over the juggernaut of "progress" … and if it's all worth it.
11/04/16
I'm supporting an initiative to build a paediatric cancer department in Gaza.  For more info and to make a donation, click here.
29/03/16
Reading the WikiLeaks Files not only offers an interesting insight into international relations, it also reveals the true functioning of the mainstream media.  I am currently working on a poem, which is intended to be in three parts, initially inspired by an article by John Pilger and a meeting with my brother, step-brother and my father.  Pilger is one of the few journalists I have time for and his article is one that reflects so much of my own feelings about the current global situation (including his rallying cry at the end about the arts), but I aim to merge this into a wider journey, which considers other possibilities beyond what many of us 'lower downs' are encouraged to see and accept.  I am also developing new ideas for paintings inspired by some of the music I have been listening to.  They are going to be minimal compositions (AKA 'Reductions'), influenced in particular by some of the sparse, durational vibes from the likes of Echospace and artists on Cryo Chamber.
10/03/16
New paintings finished earlier today.  Images and reflections on a new direction can be viewed here.
20/01/16
Frosty morning on Dartmoor, on my way to a studio without heating, brrr!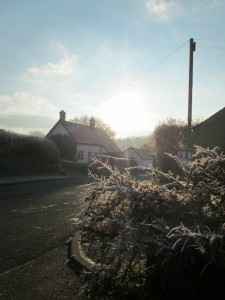 21/12/15
Homelessness in Exeter has become increasingly visible the past few years.  Working in mental health, I saw firsthand the complexity, vulnerability and exploitation surrounding the homeless community.  I was also kicked out of home, aged 16, and had to navigate my way around the DSS but I feel I was comparatively lucky in also having some good people in my life to help get me through uncertain and complicated times.  Not everyone is so fortunate and I disagree completely with attempts to criminalise people without a home.  Quite frankly, I feel ashamed to live in a city where this can be seen as a solution – less because it would do any good, rather because the 'riff-raff' are making the streets look unsavoury during the shopping season.  Please take a moment to sign a petition against this.
06/11/15
Finished latest commission (link includes images and a short description about the work).
28/10/15
Gaia
Yesterday was a beautiful day working on a commission in the seclusion of a moorland village studio.  I usually listen to music while working, but yesterday I opted for the surrounding ambiance to accompany my work – mostly birdsong with the odd car in the distance.  Autumn rains seemed to bring out the varying hues of browns, greens, reds and yellows through the wooded hillside, in a season bidding farewell to summer bloom amid a chorus of optimism in full voice among the trees.  I felt a sense of connectedness working in solitude completely in the moment of the creative act; the painting evolving naturally, unexpectedly, in total harmony, while considering the overall composition in relation to its own and the wider poetic.  Yesterday saw a serenity and togetherness not often experienced in the city, which led me to reflect again on the feeling contemporary art seems increasingly inseparable from politics and the mainstream media, inextricably bound to the fate of a repetitious consumerism chasing a pink dragon.  It left me thinking how broadening a creative experience of a present devoid of cultural paradigms, fashionable concepts and top-down bullshit could be a truly beautiful thing.  'Gaia' is a track by Russian artist, North hive, and is inspired by the worlds explored by American psychoanalyst, John C. Lilly, in his fascinating book, 'The Center of the Cyclone'.  I'm imagining painting to be a key…
09/09/15
Currently researching ideas for a recent commission for a collector in Spain, which includes an increasing fascination with the dynamic forms of Li.  The painting will largely be based on my Dreamscapes with some poems inspired by walks on Dartmoor.  The work itself is due to begin in mid-October, after my teaching contract finishes, and I aim to have it completed by December.
12/08/15
Photo below sent from Spain by someone who purchased, Untitled, (North Thai Sunset), oil, gouache, acrylic and pencil on paper (framed).
26/07/15
My site has gone live!  I am currently teaching English at a language school in Exeter while researching ideas for new paintings and I aim to have a shop up and running in the next six weeks or so where you can buy signed prints and original works.  I am available for commissions and would be particularly keen to hear from anyone interested in commissioning a landscape.  Please feel free to contact me with any enquiries or feedback on the site.  Peace and love, Chris.