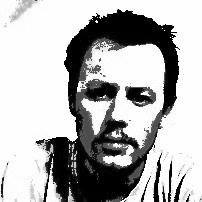 'You know there's no way I can handle a cage, man!'  ~ Bodhi
Return to the Fields
I grew up in a council house in a village on Dartmoor overlooking a beautiful valley we simply referred to as 'the fields,' where we would spend many an hour building tree houses, attempting ninja moves and exploring the terrain free as birds.  The fields seemed a world apart from the village with all its rules and in many ways to us harboured mysteries akin to ancient myths and folklore.  I was creative as a child; I particularly enjoyed drawing cartoons and was very good at theatre.  My parents also like to remind me about the time I 'Jackson Pollocked' their bedroom with Mum's nail varnish!  It was Thatcher's 80s so tough times for those in the low income bracket but, although my parents struggled a lot financially (divorcing when I was quite young), Dartmoor was a truly magical place to have spent a childhood.  The wonderful feeling of freedom and creativity amid nature experienced by my brother, friends and me remains, I think, the single biggest influence behind my work as a 'grown-up' artist.
I was a rebellious indie-kid who came of age in the 90s (another physical confrontation with my father led to getting kicked out of home, aged 16, during my GCSEs, thus underachieving at school big time but that's another story!).  Early on it was all things indie and grunge – from Senseless Things, Ride, the Cure, Nirvana and L7 (women were certainly rockin' it more back then – what happened??), to the dub and spaced out electronica of Mad Professor, Dub Warriors and the Orb.  I remember discovering the golden era of hip hop from A Tribe Called Quest and the Beastie Boys to Public Enemy and the punkish gangtsa rap from groups like NWA.  It was BMX, skateboards, Super Nes and Street Fighter 2 in an era of Strictly Jungle and The Edge mixtapes, late night cruising country back roads of Devon, high as fuck and trippin' on shrooms, boppin' to the D'n'b riddims of Hype, Nicky Blackmarket, Micky Finn, Darren Jay and more!  Most of all, I'll never forget the first time I heard Demon's Theme on LTJ Bukem's Logical Progression compilation, it blew my fuckin' mind and got me into DJing!  There was Bristol's Trip hop and D'n'b scene from Massive Attack to Roni Size's Full Cycle Records.  There was the time we got loved-up to see Leftfield's, Paul Daley do a set at Plymouth Warehouse (with Fabio in the back room) and my first crowd surf was at a Prodigy gig on speed.  We had music with energy, diversity and spirit that made it genuinely exciting to be young.
At college I encountered the barminess of Brit Art while visiting the now infamous Sensations exhibition at the Saatchi Gallery.  I recall being particularly drawn to the paintings of Fiona Rae and around this time decided the dream was to be an artist.  After college, I lived rent-free in a village pub while working in the bar and kitchen, deferred a place at uni, saved some money and travelled Australia and New Zealand.  I attained a Bachelor's from the Nottingham Trent University and later got my MA at Central Saint Martins, London.  The former, I spent most of my time in record shops and the latter I discovered that I don't identify with the art world at all.  I returned to the South West, partly because I found big city life banal, mainly because I missed being in close proximity to the countryside.  My visual artwork has since tended to draw significantly from nature and themes of beauty, unity and connectedness that takes interest in the work of Jung, Eastern philosophy and art of the early modernists.
In recent years, my paintings also involved writing a lot of anti-odes.  Beauty is a wonderful thing, but I came to realise anger holds a profundity of its own in a world you want nothing to do with; sometimes I channel it through short films, mostly via poetry and fiction.  I suppose I've always considered the arts to be the voice of the outsider, a cry for liberty, a nomad wandering the wilderness immersed in the sublimity of its untamed freedom.  Looking back at the last century, I can see there was a wilderness rapidly disappearing as we approached the new millennium.  The last ten years or so, particularly since Big Tech and mobile phones became such a prominent feature of our lives, have left me wondering if any wilderness remains.  I wonder is technological 'progress' to embody the revolution that irreversibly implants us in a culturally homogenised, post-resistance world?
The video below explores some of the ideas that have influenced my writing and artwork.
Extracts from my debut novel, Adrift in Amnesia, can be found here.
Free samples of my first book of poetry, The Cycle Diaries, can be found here.
If you would like to get in touch, please email me at: unityofkana(at)gmail(dot)com
truth is vibe
Christopher Sharp